Testimonials
---
From Dennis in Austin, TX
It is unbelievable.  Tremendous action yet plenty of back.  Rigged it with an upscale Shimano reel and 30 pound braid.  Pulled a nice 4 pounder out from under some low hanging bushes just like it was a bluegill.  I could not be happier.  It will also work extremely well for reds and trout.  I did post two messages on 2Cool on Friday.  Have not checked to see what kind of response but will do so shortly.  I feel privileged to know you and have two works of art from you.   The rod is very responsive and skips plastic jerk bait and soft bodied frogs up under the docks.  I get most of my hits because of the ability of the rod to put the lure where the fish are.
---
From Ryan Noppe, Houston, TX
If you're looking for a rod have Billy Mc Daniel build you an amazing custom rod. Here's mine. Specs are 6'6″ VIPER BLANK!! Its amazing lite especially pairs with the Shimano CU70xg. The triggerless grip is so nice I can hold the rod  much better. I had such great control over the fish I caught on it today. (First time out with it). He can make whatever you want just get the VIPER BLANK they are amazing.
________________
From Kyle Eskue, Drunond,TX
Just thought I'd share a few photos of the Billy Mc Daniel (BillStix) rod and reel pairs. I went with a 7ft Baitcast rod with a redfish inspired theme pairs with the gold colored Shimano Calcutta 200B. Also got a 7ft Texas A&M Aggie themed spinner rod paired with the Shimano Stradic 4000. Had a chance to fish both rods this weekend and truly happy with the way they performed. Construction and attention to detail are excellent. I am a new fan of the no trigger concept also.. No trigger on either rod!! And let's face it.. They look awesome!
________________
From Charles Kennedy
just want to tell you how much I am enjoying my "Jungle Fishing" bass rod you built for me.  This baby horses the big bass out of the matted grass just perfect, plus I can feel every blade of grass and pebble on the bottom.  Amazing!!!
I attach a poor quality pic to remind younof the rod you built for me.  Frankly, I could fish grouper with this work horse!
________________
Here's a great video!
________________
From Ty Zella, Stockdale, TX
________________
From Tommy Hurlburt, Beaumont, TX
________________
Maon Hessler from Santa Fe, TX puts his 6′ 8″ BillyStiX to work on a nice 27-inch redfish!
________________
From Allen Tomlin, Hempstead, TX
"Hey Billy Mc Daniel the new rod works great 33-in red and a 24-in and limit of trout. 
Man the rod has so much back bone and it's so light !!!! hard to believe all in one rod."

________________
From Joe Strahan in Beaumont, TX
"'I've never had a rod this stout with that kind of sensitivity in the tip. Great job Billy. It has paid off many times for me on tournament day!"
Here's a couple shots from the weigh in. Sorry no fish in the pics. I released them to swim away for another day. It was a crazy windy day and most people struggled to feel the bite with all their slack in their line. That was made even worse by the subtle bite the fish were providing us with. My buddy and I were the only ones to cull through more than 2 fish and I attribute my fish to the fact that I could feel the bite even with all of the conditions against me. I landed the fish one in roughly a foot of water. It screamed left and right but The Stix whipped it into submission. My second fish weighed in came in much deeper water. It was a tougher fight with the fish pulling me into the bank then away from it, then back out into open water to circle the yak a few times. I attribute my fish to the sensitivity in the tip of the rod and the ability to play the wind and land a cast perfectly parallel to the bank of the channel. The spiral eyes made precision possible in 40mph winds and the sensitivity of rod allowed me to feel the bite with the line slacked. Thank you Billy for providing me with the perfect rod for these redfish tournaments. I need to get with you soon after I sell a couple old rods so I can get another rod fine-tuned for some trout tournaments coming up.
________________
Here are a few photos from Aaron Bell, Orange, TX.  Nice fish, caught on a 6′ 9″ BillyStiX spinner!
_____________________________
From Santiago Huerta, Houston, TX
_____________________________
From: Tommy Atkins, Houston, TX
Regarding his 6'8″ Medium Fast White SpiralStiX:
 "I love this SpiralStiX.  Never knew what I was missing until I got one. Light weight and super sensitive blank. The spiral wrap was totally awkward to me until I got my hands on it, now I can never go back!"
_____________________________
Some nice spotted seatrout, caught by Tommy Hurlburt, Beaumont, TX with his first BillyStiX rod!

_____________________________
From Bobby Manior, Liberty, TX
"Put that Billystix Custom Rods to work son….again! Another easy limit plus two of my buddies!"
_____________________________
Charlie Newsom is the proud winner of the drawing for this Orange and Blue BillyStiX rod at the recent CCA Gator Anglers banquet in Gainesville, FL.  (Charlie is the handsome guy on the left; Billy is on the right; Wally Grant is hiding behind the lovely and talented artist, Jill Tisdale.)
____________________________
From Jordan Stringer, Beaumont, TX
 
A nice flattie caught with a 7 ft Medium Action White SpiralStiX
_____________________________
Hugh Daily from Ocala, FL with a nice 51-inch king, caught on a BillyStiX Gator Grouper Rod!
_____________________________
Thanks to Billy for the donation to the 2014 CCA Gator Anglers' Banquet in Gainesville, FL.  The 7-foot, orange and blue,  spinning rod with MicroWave guides is rigged with a Lew's reel and will be won by a lucky person at the October 2 event.  The drawing is open only to attendees who purchase their tickets in advance.  For more information about the event and to purchase tickets, CLICK HERE
_____________________________
Capt. Tommy Thompson with a 30-plus pound jack crevalle, caught while tarpon fishing at Flagler Beach, FL.  Thompson was using an 8-foot medium weight BillyStiX rod rigged with a Shimano Stradic 5000 and 20-pound PowerPro line.  The lure was a Yo-Zuri Crystal Minnow.
_____________________________
Another Great BillyStiX catch from Anthony Hoang, Houston, TX
_____________________________
From Tommy Hurlburt, Beaumont TX:
His new BillyStiX, right out of the box!
_____________________________
A nice tripletail from Joe Strahan, Beaumont, TX
Caught on a 6′ 9″ Medium Fast BillyStiX!
_____________________________
From Jordan Stringer, Beaumont, TX
Had an awesome surprise! I wasn't expecting this until next week. Two days: two custom rods.
I'm so ready to hit the water this weekend and fish the Saltwater Boys redfish tournament next Saturday!
_____________________________
From Carlos Villarreal, Pearsall, TX
Not only do these BillyStiX look good, they work Great!
My Stix help land my personnel best trout at 27″ and 6.5.lbs.  My previous PB trout was 24″, that weekend, I landed a 26″ trout.  That trout was 2″ over my previous PB, later that day same day, I landed my current PB trout at 27″, besting my old PB twice!.

That rod has now become my go-to rod for trout and redfish.
_____________________________
From Anthony Hoang, Houston, TX
….with a nice 7.11 pounder!
_____________________________
From Cliff Dowden, Oklahoma City, OK
My family now has about 5 BillyStix between us.  We fish with them in freshwater just as we do saltwater!  Here's evidence of the versatility of the BillyStix.  This Bass was an awesome fight on a beautiful spring day just northeast of Oklahoma City, OK.  
Here are a few pic's so you can post any of them you like.
Thanks for making such a sensitive, but yet strong rod!
_____________________________
From Toms Ly, Houston TX
Tom caught this red that matched the logo on his BillyStiX rod!
_____________________________
From Capt. Tommy Thompson, Steinhatchee, FL
Here are a couple of shots from a recent trip out of Steinhatchee, FL with Amanda and Todd.  Lots of big, top-slot tournament reds whipped with my 8-foot BillyStiX rods, rigged with 10-pound test Power Pro on Shimano 2500 Stella reels.
_____________________________
From David Tran, Port Arthur, TX
After reading all these positive reviews and hype on the texas wader stix,
I wanted to try one for myself. I normally just fish with big retailer rods (falcon, castaway, all-star) and decided it was time to try custom rods. I gave Mr. Billy a call and told him I wanted something versatile for small tops and plastic and it had to be LIGHT.
Well, I got my rod Saturday and tried it out Sunday. At a weight of slightly over 3oz, the rod felt extremely light and comfortable matched with a chronarch 50e. Casting Required less effort compared to my other rods. Working a top water spook jr was effortless! I decided to put on a mirrodine xl and to my suprise , I did not have to kill myself jerking the bait through the water like my other rods. I was able to twitch the rod and get the same action that I would get forcefully jerking the mirrodine with my old rods..
On top of making my fishing easier, they look dang good!
Thanks for a great build Mr. Billy!
_____________________________
Here's an informative video:
http://www.youtube.com/watch?v=CKXW47Qfhow
_______________________________
From Steve Liles, Houston, TX
Thanks very much for the quick turnaround and a wonderful job on Dads rod. I believe in the near future I'll be ordering a few more for a few other veterans. If you read the post I did go give it to him today early and he's still walking and talking about it. He wants to go trout fishing Saturday and Crappie Sunday. It turned him 12 years old. We never had nice things and really appreciate your skills and product. I didn't hurt a pocket book, it bought more time for an old Marine and we both want to thank you for that.
I get amused as an old salt and at one time president of many large fishing clubs I can't tell you how many people go out with a guide a few times then go get a Captains license to fish the same spots and as well these people that get into the rod building business after watching a few you tubes or watching someone else do it.  Problem is that new Captain will find that fish move around and unless you're in a loop of top guides you needed years of what to look for to keep a good business going. I have a few buddies that are doing the rods and I watched them cut corners to save cost by buying cheaper blanks and hardware. They are failing , due to too many people successful like yourself not cutting corners. I also think your pace approach is perfect.
_______________________________
From Andy Allen, Orange, TX
This morning @ 6:30 to the fish pass till 9:30 , had a hard outgoing tide. We caught all fish , even the flounder on Swimmin Image , & of course my BILLYSTIX. Big flounder was 23 inches & maybe 5 of the trout were over 20 inches.
_______________________________
From Anthony Hong, Cypress, TX
Dang billy  Man I'm sore as geebus from yesterday…this is Anthony, the one with the blue spiralstix that referred a friend , I put your StiX through some hard labor yesterday catchin' reds flounder huge sand trout and bull croakers…I tell you what , you build one helluva StiX. I had to set the hook and reel in my buddies redfish on his rod/reel and OMG– I tell you what it's like night and day. I wanted to set that thing down as fast as I could..!!
_______________________________
From John Shannon, Victoria, TX
"I just received two new Billystix rods! Every single one of them is a work of art. Each one is unique in its own special way. If you're looking for a custom rod please give Billy a call. They are affordable and will make your fishing experience that much more enjoyable. I use and recommend a 7′ viper SpiralStiX."
_______________________________
From Ken Zawacki, Sugarland, TX
I had several concerns about ordering a custom rod sight unseen, hands not felt. I contacted a few 2coolers that I knew had Billystix rods, then called Billy. He is a man that has fished and made rods for many years. Billy knew exactly what I was asking for and made me comfortable with placing my order. That being said it still took me 6 months to place the order but once I did it could not get here fast enough. He has many Blanks and there were several options to choose from. It basically came down to what type of fishing I was primarily looking to do.
I received my Billystix today and it is beautiful, Promptly took it to Galveston and caught 2 flounder. The sensitivity, strength, power and casting were more than I could have hoped for.
Thank you for the gift Billy, I will appreciate this rod for many years. To me it is worth every penny. My only regret is that I waited 6 months to order it.
_______________________________
From Linda Jones, Crosby, TX
Linda's personal best Redfish. 8.25#, 27+ inches, caught with Pink Texas WaderStiX 6'9″ built by Da Man Mr. Billy Stix.
Didn't get rod in the picture we were to excited, but notice the pink hat.
_______________________________
From Coby Bullock, Tenaha, TX
Broke in the new TTU BillyStix!
Got my first BillyStix on Saturday and got a chance to use her today with my buddy, 2cool user kiethlake. It is a 6'9″ Texas Wader. Love the action and sensitivity on this rod. The rod is so skinny and light and paired with a Ci4+, it doesn't weigh much at all. I was a bit concerned with how skinny and light this rod is. What would happen when I hooked up with an over red? First fish was about a 16″ trout. Rod felt great! Second fish, 29 1/2 bull red. This sucker had the rod bent in half and the fish was stripping line at will. Man, it held up great and was a pure joy to fish with! Caught several other keeper trout and couldn't be happier with the rod. Thanks Billy for such a great rod!
______________________________
Vallera Hugh, Williston, FL,  with a nice Gulf grouper caught on a BillyStiX rod!
_______________________________
From Capt. Tommy Thompson, Steinhatchee, FL
Great weekend fishing at Steinhatchee with Buzz Minton, daughter Emily Beardsley and son-in-law, Grant.   Reds were chewing.  Emily had a slow day on Saturday (Buzz had 5 big reds and a huge 'gator' trout) but gave the boys a run for their money on Sunday with 3-in-a-row 8.5#, 7#, and 6.5# fish, all on topwaters in less than 2-feet of water.  Emily fished with my new BillyStiX "Orange and Blue" spinner with Microwave Guides.  Long casts made the difference with these spooky fish.
_______________________________
From Bridge City, TX
My wife got to break in her Billystix and boy is she happy. She caught her biggest fish yet,(drum), her largest speck and some reds. She says it is her good luck rod. Thanks Billy she is bugging me for another rod, says her birthday is coming up.
_______________________________
From:  Capt. Tommy Thompson, Steinhatchee, FL
A good trout bite in local creeks-not whoppers, but easy limits!
Lots of fun with my new BillyStiX "Florida Gator" rod.  Also, the new Microwave Guide System helps with longer casts–and less wind knots!  Most trout caught on the new D.O.A. Airhead soft baits.
_______________________________
From Cliff Dowden, Katy, TX
"BillyStiX even catch bass"
_______________________________
From Brandon Clingerman, Santa Fe, TX
Well I received my new Billy Stix rod today, And all I can say is wow what a spectacular rod it is.. This thing is great, the workmanship is top notch and is just as nice on the feel. The spiral set up on the eyes makes for a great cast and the extra distance is amazing. I would have to guess I casted it prob 10 yards further than any of my other set ups with half the effort. All I can say is if you have not bought a rod from Mr. Stix you should do so now do not wait call him and order it you will not be disappointed …. I am already thinking of my next build… ( just wish I would have got it sooner so I could of taken advantage of his easter sale with free shipping…lol) you can see my rod on Billys post titled " Texas waderstix tight butt wrap" and I will try and get some pics as soon as I can..
Thanks Mr. Stix you have a new customer for life….
_______________________________
From George Maness, Alvin TX
Caught on a BillyStix Heavy Boat Rod
_______________________________
Who says BillyStiX Rods only catch saltwater fish?
_______________________________
From:  David Rabalais (Saltyboy), Beaumont, TX
As if I wasn't already in love with my rod from the work Billy put in to it, I decided to put it through the test Saturday and I was not disappointed. At one point the rod tip almost touched the reel while i was attempting to net my own fish lol. I usually winch in my fish so that they don't spook the rest of the fish away but this night I played with them a little bit. I let the reds fight me and I got to see what this rod was all about!
Caught a big ole 29.5 inch Red first one on the BillyStiX
_______________________________
From Greg Burda, Dickinson, TX
So I know some of ya'll already know whats coming. But got my new BillyStiX last night and am super impressed with Billy's work. This thing is amazing, there are not many products out there that have such attention to detail. Every single little bitty thing is perfect. It also feels great, cast great and looks great!!
The funny thing is, I never really looked into billy's rods, pretty much just went off of word of mouth. So I had a really long day yesterday and work and the only thing I thought about all day was getting home and opening it cause my roommate told me it was there. So I get home, super excited, took like 10 minutes to get it out, Billy takes extra precaution to make sure it gets to you in one piece (very nice job) Then I pull It out and look down the rod and have that "***!!" moment..  Lol. I quickly calmed down realizing it was a SpiralStiX and I verified on his site that, that's what he builds.
So it actually was a real positive, I've seen these before and always have been a believer that they had to be great. So 2 first for me, a custom rod and a SpiralStiX
Thanks Billy!! Once again, excellent job on the details.
_______________________________
BillyStiX, The Story of the Legendary Rod-Builder
Well I am in Florida for a business trip. I had some time this weekend, so I decided to visit my friend Billy. Well Billy and I met some time ago when I was lucky enough to win a custom rod. Little did I know that I would wind up talking to Billy often. Sometimes I call just to shoot the bull with him.
Well I finally made it out to meet Billy in person vs. phone calls and PM's.
Billy invited me in and we sat down and there it was. His chair, in the living room where he builds rods. (Yes, his wife is very tolerant of him )
Anyway on this table is spools and spools of thread and a rod holder to his left. We talked for some time, then he took me to the dryer room. WOW. This dude has more rods, blanks, reels. I don't mean standard shimano, ABU etc. Old, very old and very clean reels. He showed me a few of his favorites, a few rods he was finishing up and that SOB showed me the three piece rod. Yes, I am going to order me one. He knows I would take the bait. Seriously, this three piece is light, clean, and you can hardly tell its not one solid blank.
The action on is was perfect. He knows I was going to steal it so he made me put it back
Anyway, back to the rod building. We sat back down, and he showed me what he does. He picked up a rod, nothing on it at all. A blank, the handle was seated in, but no thread work. He told me about the customer and what color the work was to be done in. Then he got busy. One strand of thread, rod resting in a PVC holder on the butt end, and the tip side on his leg. BY HAND, he started. One wrap at a time, rolling the rod with one hand, guiding the thread with the other. Sometimes he stops, unwinds a few wraps, then re wrapped it. (Not sure what he didn't like, but he fixed whatever it was)
Well I watched him turn this thing one thread at a time one idea led to the next, he was just as happy as a clam, turning away one roll and then the next. I must say, the guy has some patience. Not sure how many hours it takes to complete one rod let alone the thousands that he is responsible for.
Billy, it was a pleasure spending time with you. You and your wife are great. Well she has to be to be able to live with you HA!
Either way, as all Stix owners say, you have just got to see the rods in person. I know have seen the legend with my own eyes, and watched him do what we all know he does well. Nothing like it.
True art.
Billy, thanks for your hospitality. Tell you cat I don't take it personal. I don't trust me either.
Mrs. Stix, keep that guy in line. You may have the hardest job in the world.
Oh, for the record, I did search high and low for a lathe and a crew of child labor to pump these things out. Just Billy, two hands and true love for his craft.
Jeff Mcmath
houston texas "aka" 24 buds
_______________________________
From Louis Trochesset (Law Dog), Galveston, TX
I got my BillyStix rods in last week and gave them the test on Sunday. This is the smoothest farthest casting rod I have ever used and the lightest. All that and it is beautiful ….oh yah it catchs fish too! Thanks for the great work and the great customer service Billy. I am working on the details I want for the next set of Rods. Thanks again!
_______________________________
From: Addison Barron, South Houston, TX
Ok guys, let me just start out by saying this is a must have.
I have fished this rod a couple of times already.
I just wanted to get a couple of trips on it before posting.
The rod has preformed better then expected. I was a little skeptical at first
When you thank 3 pc travel rod you start to wonder what will I sacrifice.
Am I giving up performance, sensitivity or strength?
Well let me tell you that you are not giving up any thing.
This rod has preformed way beyond my expectations!
What you do gain is casting distance the eyes that Billy uses have a quick taper.
And the addition of them being spiral more the improves your casting distance and accuracy.
The rod preformed as god as any one pc if not better then some that I have used.
The blank loads up on the cast just wonderful this is also one of the reasons for improved casting distance.
It has plenty of back bone for any hook set .you can swing for the fences with this thing. With out any worry about if is going to break.
Billy has also hit the mark on sensitivity. You can feel the slightest little tick or bump of the lure as it telegraphs thru the blank flawlessly.
The rod has more the enough strength for red fish trout flounder or anything you may set a hook on.
So if you are thanking about a travel rod let me say you will not go wrong with a Billystix .
If you are looking for a travel rod with a good fit excellent performance and sensitivity give Billy a call.
You will not be disappointed Billy has hit the mark on this rod.
And it doesn't hurt that it looks good also.
Billy thank you for the opportunity to test out this rod it has been my pleasure.
And it has become my new go to rod all I can say is AWSOME JOB …
______________________________
BillyStiX vs. Bull Reds
Headed to the north jetty and looked at the fish finder and it was LOADED with fish, I just didnt know what kind. Anchored up and dropped straight down and BAM! Bull red city, they made a pit stop below us. Billy, I must say your rods are the bomb! All three of my rods you made held up flawlessly. It was an awesome day I must say!
_______________________________
Here is the first Red I caught on my new Billystix. I am loving this rod, I will be getting more StiX before long!
_______________________________
From Marcus Canales, San Antonio, TX ("osoobsessed"
Trout is my new personal best, 29 inches, 8.00 pounds, caught with my Billystix Texas Wader Stix, which I named my "Death Stix"..
_______________________________
From a fan in Texas:
I found the right path with a BillyStiX!
Situation: so i was sitting on my laptop on ebay about to bid on this gloomis greenwater rod with like 4 minutes left on the auction when i decided to scan through 2cool real quick to see if anything has been posted for sale lately…sure enough a billystix and stradic ci4 combo …i was gonna pair up the gloomis with a 2500 ci4 anyways so shoot, this looks a deal….so i had 4 minutes to decide on a billystix which i have heard so much about thru all the fellow 2coolers, i had to move quick so i called the seller and he told me the specs on it and i said fuggggggg it how can i go wrong??? told him i would pick it up the next day.
Tests: well folks, i took it out to my neighborhood lake to test out the stix and snatched up 3 bass with it with the biggest being 25″…throwing tops and worms 40 yrds with ease. sensitivity was awesome and setting the hook and manuevering the fish around was great. plenty of power and backbone…always had control of the stix. not one thing i found i can critisize about…
Conclusion: all i can say is wow…beautiful rod work, attention to detail, casts a mile, super sensitive with a healthy backbone, handled that 25″ bass nicely…im only gonna buy billystix's from now on, let the money saving begin .
Followup: i had pm'd billy about the stix and he remembered building, he gave me some insights on it and told me if i ever needed anything,issues or service, just give him a call. now thats some customer service.
_______________________________
From Joe Moughon, the Chickenboy…and avowed "Flounerholic"!
_______________________________
From John Riley, Ellargo, TX
Couldn't wait any longer to try out my new BillyStiX and Chicken boy shrimp so I hit my flounder hole on my lunch break.First cast got a 17″ flounder,few cast latter got a 16″,Than had three tails bit off ,and lost one around 20″ right at the bank.Note to self "Put the net back in the truck".Still not to bad for 30 minute fishing trip.Just want Billy to know the rod preformed perfectly ,And I hope Chicken boy has plenty of the red and white shrimp left because Im about to make a order.He must fill those things with flounder crack of something.
_______________________________
A Great Jack-Fighting Video from Monte Wilcox, League City, TX!
_________________________________
From Mike in Baytown, TX:
They're worth it guys. I fished nothing but $50 allstars and caught tons of fish but on his last auction I bought one ( my first ever custom rod) and when I used this Waderstix side by side with my Allstar it was unparalled . There was so much feel to this rod it was red-iculous.
_________________________________
These fine reds were caught off a dock in Texas using BillyStiX rods!
_____________________________________________________
From Mac Steven Jank in Victoria,TX
____________________________________________________
Teague Family With a Great BillyStiX Catch
Tammy, Chris and young Matt…from Schertz, TX.  The rumor is that Matt sleeps with his first BillyStiX rod!
_______________________________
From Jeff Wright, Danbury, TX
Not entering (because I won the last contest for a viper ) but I'd just like to say that I finally got to break in my new Stix. It came shipped with some mojo at no charge! Love my Stix! Thanks Billy
Whoever the winner is gonna be, congrats! You're gonna LOVE it!!!
__________________________________________
Supermodel Meghan at Suwannee!
Meghan was down from her new home in Pennsylvania and just couldn't resist getting her feet wet at Suwannee.  Of course, the weather was perfect over the Holiday Season and she had several great days casting one of my  BillyStiX spinning rods. 
____________________________________________
From ruben rod riquez, Whartion, TX
Billy, Just recieved the two black and gold waderstix today! Great packing by the way, the rods are sweeeeeeet! The pics on the boards don't do it near justice my friend they are beautiful and I'm very pleased. Thank you
____________________________________________
From Tammy Moses, Suwannee, FL
Hello Mr. McDaniels my name is Tammy Moses, you donated one of your rods for a benefit that is being done for my daughter. I just want to say thank you so very much for doing that for her. It is a beautiful piece of art work and whoever winds up with it will be very lucky. Please let me know the next time you will be in Suwannee as I would like to Thank you personally. God bless you!
______________________________________________
From 'McDaddy', Victoria, TX
_________________________
From Specks&Spots, TX
__________________________________________________
BillyStix Spiral Rod on Florida Sportsman 2012 Calendar!
Take a look at the July page of the 2012 Ladies of Florida Sportsman Calendar and see how good Capt. Tommy Thompson's offshore SpiralStiX goes with Brooke, Crystal and a nice AJ!  The shoot was great fun, and the SpiralStix performed 'as advertised', not giving the girls too much trouble with a bunch of 20-pounders!  Get your very own copy of the calendar from Florida Sportsman.
___________________
From:  SmackDaddy53, TX
I have a 7′ black viper with 8″ cork rear grip, no fore grip ordered and decided to get one of his spiralstix specials the other day. It is a 7′ blue viper with cork fore grip and rear grip.
I have two in the works. We decided to wait until january since hes so busy and he can send both of them at once and save me some shipping $$$$. And about the self-incriminating…i asked for billystix for xmas and my girl and family already got me a bunch of gifts so i bought myself a shimano calais and two billystix. I have an old curado cu200 for the second rod. Old greenie shimanos are the best!
Ive been abke to use my new stix a few times this week and i love them! Great rods that function better than they look, and thats saying a lot
Here are a couple of photos of SmackDaddy's new rod!
Notice the weight of this rod!
___________________
From: Keith Lake, TX
I have somehow recieved 5 from Billy, with the latest being a FLOUNDERSTIX. I called him this evening to talk about a spinning rod, dont know how long I can wait before I order it. Cant find a problem to mention
___________________
From Hookset4, TX
I have numerous rods and reels but only one Billystix. I very seldom fish with anything but the Billystix. I will occasionally switch reels on the Billystix but it's always the Billystix I grab first. The rod balances better and throws farther than any rod I have ever owned. Simply the finest.
___________________
From White Cap, TX
Both my wife and I have a BStix masterpiece. These rods cast very effectively while being a visual piece of art!
___________________
From:  WannaBFishin, TX
Put a $25 H2O on my BillyStix today and went fishing. NICH !!!!!!!!!!!
Won't do that again…….just a thought. Back to the Shimano's! Too good of a rod to put junk on it
___________________
From: Dukhunter3691, TX
This is my son with an April 2011 Redfish caught on his new (at that time) BillyStix! We both love our BillyStix Rods and will be ordering more in 2012!
___________________________
From:  FishFinder, TX
Went out on New Years Eve to do some drifting. BillyStix made me a custom 6.9″ medium fast action rod. Caught this beast of a redfish on a brown lure paddle tail lime/chart on 8lb p-line. The rod handled her like a champ!
______________________________________________________________
Capt. Dave caught these nice Texas flatties with his 6'6″ Medium Light BillyStiX rod.  "An all around perfect rod–it does it all and does it BIG!"
_______________________________________________
 Any one that is wanting a custom rod and is not sure about Billy stix let me be the first to reassure you they are worth a lot more money then he charges. The craftsmanship that he puts into each and every rod is amazing. He spends the time to get to know you over the phone and asks the questions that really matter like the size reel you use he then researches the weight and balances the rod for that reel. Also he likes to know what baits you use ( which I think it's to better his catches) and jig head weight for the tip action he thinks that will best suit your needs. Then the type of grips you hold the rod or if you palm the reel when you fish. He has more grip options in lengths and styles then you could imagine. The size guide you like and his thoughts on those will probably change your mind if you take his advice. Billy takes the time to listen to you thoughts and make sure you get what you really want out of your rod. When you pick up his rod he built for you it's not a just a custom rod it's a rod that was custom built just for you. He takes the time to understand exactly what you want and there are other rod builders that do this and build great rods but they are far and few between. The last thing he asks is about the colors you want and what all you want on the rod. Which I have three and only the first one I tried to tell him exactly how I wanted the colors after I got the second one I learned to just tell him what colors I wanted and let him do his magic. Last week I ordered three more and can't wait to see how they come out. One of the rods is for my five year old which will be his first custom built rod I know he won't be able to use it right away but he has a matching rod to mine which hopefully makes him happy. Sorry for taking up so much space but this is my experience with Billy.
Capt. Joe Allen
Biloxi, MS
______________________________________
I picked up a spiral stick from Billy earlier this summer and love it. Finally got my wife to try a bait cast reel, set her up with a nice rod, not Billy Stix, but a nice commercial rod. I had her hold her rod while I held the tip to my throat and talked to her. She thought I was nuts. Then I put my rod from Billy in her hand and repeated the same thing. She almost dropped the rod!!! She was not expecting anything and could actually feel the vibration from my throat as I spoke. That got her very interested in a new rod, she saw the current collection of rods and liked the purple ones so much that we are now getting her a custom rod… Can't wait to see what this one looks like, should be sweet as usual…
Thanks Billy!!!
______________________________
I got my 1st spiral stix last year and this is not a fishing rod, its a catching rod. Not only does she catch fish but she looks good doing it. Billy's rods are a work of art that perform superbly. Earlier this summer I was wade fishing the beach down around SLP and the next thing I knew I was fighting a 32″ bull red. This rod is a bait caster 6'9″ mated with a ambasadeur black max with 17# andy. It took about 20 minutes with the rod bent over double before I could land this big boy. With the spiral wrap the rod never wanted to twist in my hands under the weight of this monster. If you are looking for an excellent rod you should give Billy a call. I just got my 2nd stix in and its a spinning rod for throwing soft baits. Gonna mate it with a shimano reel with 20# braid. Can't wait to take her out and get her wet. Shes a beauty too. Thanks Billy.
Gary Bryan
_______________________________
I got my rod in last week and gave her the test on Saturday. This is the smoothest farthest casting rod I have ever used and the lightest. All that and it is beautiful ….oh yah it catchs fish too! Thanks for the great work. I am working on the details I want for the next one. I will be contacting you soon to get my "crown jewel" ordered in time for the early spring big trout time thanks again
Mike Colemere
San Antonio tx
________________________________
TEXAS WaderStiX
In case folks from Florida don't know, this is a Texas SLAM. Pretty dang good for the WaderStix maiden voyage!
The new Waderstix worked flawlessly and is beautiful, to boot:)
Hope this makes your website. If I can figure out how, I'll post this pic in 2Cool.
I didn't even this to take a picture of the other 6 trout.
We kept what we would eat and let the others grow until next weekend!
Thanks for everything,
You"re ole' Bud,
Karl Beaty
danbury texas
_____________________________
Got my first new rod today from Stix & I can tell you it will be the first of many-After finally getting it out of the shipping tube & unpacked I have never seen a more handsome rod in my life-They look great on the internet but pictures do them zero justice-Stix can build a rod like no one else-My wife came in my office later & the first thing she said was that is a beautiful rod & that is the best compliment you can get-Just wanted to brag a little about my new rod & Stix-Thanks for letting me beat my chest.
Court Ken, TX
_____________________________
Team BillyStix = 1st Runner Up, CCA Starteens Flounder
My oldest daughter caught this 4 lb. 1oz. flounder on our annual trip to Port Mansfield. He held 1st place for 21 days , but got bumped a couple weeks ago.
We pulled up on a spot we fished last year and she hops out of the boat. I'm trying get her sister organized and in the water . Reilly asked if she should cast like " last year " . I said " yeah " and continued getting everything together. That's when I hear " DAD……….. I have something BIG "
She's standing right behind me so I turn to see her BillyStix weapon bent double. I notice that the fish isn't coming up or running to the side , so I have my suspisions. I grab the net , she pulls the fish up and I scoop it . Done !
Told her sister to cast and she lands another flounder that a couple oz.'s from making the board.
We had a great week of fishing , beach combing and enjoying everything the LLM has to offer.
One of the many highlights was spending Monday with McTrout. If you have never had the pleasure, treat yourself.
A huge thanks to BillyStix for his generosity 2 years ago. She loves her set up and brags about it all the time.
_
Bayduck, West Houston TX
Pair your Waderstix with a Shimano Stradic CI4 and you will definitely land some fish…at least I have been! That combination weighs virtually nothing. Billy is a top knotch rod builder and all around good guy. I promise that you will not be disappointed.
Here is a picture  of the fish I caught on it a couple of weeks ago. (Before anyone says something, I only KEPT my limit! But I caught MANY more)
Team Gafftop

Good looking as always Billy. They fish better than they look. Just don't buy two because you never can decide which one to fish with. Billy I'll be calling you soon to order that third one that we talked about. Can't wait for you to work your magic again. Thanks for building such a quality product with the customer service to match—Biloxi24fy

My Waderstix showed up yesterday while I was at work. My wife called and said "your pole got here". I asked her what "pole"she was talking about? Then I realized, it must be my Waderstix!

Had a hard time making it through the rest of my 12 hour shift, but I finally made it home. There was long piece of PVC pipe in the corner of the living room waiting for me when I walked in the door. Tried to open this thing, boy Billy sure knows how to make the suspense last. He should higher out to wrap Christmas presents. 

Finally!!! I got into the package, Man what a piece of craftsmanship!!!!!! This rod is lighter than a hummingbird feather! The feel and balance is fantastic. I put my reel on, and grip the handle…. This is awesome!!!!! 

Well what now? Do I really go fishing with this piece of superb craftsmanship, or do I make a mount and hang it in the wall to show everyone what a fantastic stix this is ????????

Well the new boat comes in on Saturday, and I guess I'll take the new stix with me and give both the maiden voyage together.

Thank you Billy for this fine piece of work—Andy

Billy, I sure do love my WaderStix. But since you're already working on another for me, I'll take a pass on this one. But I can say that it's the best rod I've ever used. The proof's in the pics. (And before anyone comments, those weren't all mine.)
C'mon guys–order your BillyStiX!  Here's my biggest fish so far!
Got mine Saturday. Awesome visor to go with an awesome rod. Thanks for all you do on this site Billy. If anyone needs a nice custom rod give Billy a call. He will fix you right up with whatever type rod you need and built the way you want it. He will go over type of rod, length, eyes, grips, colors, etc. Its not some prebuilt rod off the store rack. If you want to know how his rods hold up, just look at the fish troutdog caught on his Billystix in the picture above. Thanks again Billy… Carribean Pirate, Houston TX

GOOD LORD! More like 15 minutes! That wasn't no lie! It brought out the child in me and the dogs thought I was never gonna finish ruffling all that newspaper. Brenda kept saying there is only one rod there, the temptation was killing her. It was so funny…then I handed her the pink one for her to pull the plastic bag off. HA! Right after I turned off the ceiling fan. Oh and the pull tab tape trick that was cool. Only one way outta the tube.

Thanks Billy, Boy you do some spectacular work! Those rods are so balanced it's incredible…light too! Can't wait to match em up with a couple of Shimano's.
Those of you looking for a quality rod with some exceptional workmanship look Billystix up. He will do you right!
She's all I think about
I need a BillyStix rod because; I haven't been able to get her out of my mind since I first saw her.
My friend had just brought her home, but I couldn't help but notice her gaze. I saw her there… eyeing me so seductively. She wasn't the first of beauties I had seen, but there was something special about her. She was a rare spectacle of exotic beauty… something I had never seen before; something I knew I must have. She was tall; with a slender figure gave way to the feeling that she knew exactly what she was doing. My friend has left us alone to gather refreshments in the other room, and as we began to flirt, I instantly fell in love with what my buddy had referred to as her "smooth; elegant demeanor", but something told me that although she wore the face of sophistication, she really knew how to get in it, should you be the lucky one to hold her. She was teasing me and although she belonged to my buddy, but I could not resist her temptations anymore…. I grasped her and held her close to me, slowly moving my hands down her tight figure. It was just as I imagined, and right then and there I knew that I must have her. Before it could go any further, we were interrupted by my friend. Who quickly told me to order my own! That was the day I first held my buddy's BillyStix Rod, and I've been thinking about her ever since.

Hi Billy,
Well we got our rods mid week last week and they are beautiful.  We headed for our place in Rockport and yesterday my wife landed her biggest redfish to date (just under 28 inches, and 9+ pounds !) on her new Billystix rod.  She was and remains so excited (the smiles were huge) and we took these photos to share with you and to thank you for choosing her as a contest winner and for making such fine rods.  I will post some pics and a good write up on 2cool when I have a chance this week.
Thanks again, hope I can steer some business your way.
Charley and Rosette Sargent
San Antonio and Rockport TX

Hey Billy,
Just wanted you to know that since it was such a nice day I decided to go out for a short time this morning and break in my new Gator Stix and it did the job. I am very pleased since the proof is in the picture… I put 5 bass in the boat 4 were 1 to 2 lbs and until the hawg bit wasn't sure it could withstand some pressure but now I know… fish got into some grass but no problem putting her in the boat. Almost 24 inches and weighed just at 6 lbs… there will be more for sure.
Thanks again
Mike

I used my new Spiral for the first time this past weekend and I was very impressed. Working a topwater was effortless.
Billy you are not just a Texan at heart, I think we can officially take a vote and declare you a Texan by Proxy!
If nothing else you are absolutely a proud american and one of the best, big hearted men I have every had the pleasure of knowing! It is an added plus that you make the best fishing rods I've ever used!!!!!!!!!

We received the donated rod today. Now I'm not the best fisherman by a long stretch, but I do know quality workmanship, and this rod has some of the best craftsmanship I've seen in a long time. My younger son was nearly drooling over it as he held it, noting how much he'd love having such a rod.
Billy – thank you ever so much for donating the rod. Your kind heart touches us. Know that you are helping more than just one scout become Eagle; you will forever be a part of his values and morals, and we can only hope and pray that the fine examples of generosity shown in support of his project, like your donation of a fishing rod, will inspire him to be a generous caring person as he moves onward in life.
Thank you. I only wish you could be here to meet my son in person. We will make sure you get pictures of the tournament, and when the memorial is built, of the dedication.
May God bless you and yours.

I made my secong fishing trip with my new Billy Stick Spiral rod, and il have to say that I LOVE it… When it comes time to buy another rod, it will be a Billystix… I love the way these guys cast, you can also tell the difference when the fish pulls drag and how you dont hear the string rubbing against ya pole. I can defanantly tell a difference for the better…
Awesome rod Billy

The last one I will need !!!!!!!!!!!!! (till I can buy one) , A great amongst the great, incredible custom work, a passion of rod building that reflects on his craftsmanship, unique in a world of repeats, the one that you will simply fall in love with the moment you handle it, feel it and experience this one piece!!!!
I Love my spiralstix, would not change it for anything else.

Billy,
It's be almost a year since I've had you build me a rod and I just wanted to say thank you again.  It really is a fine piece of art.  Not only that, but it's extremely durable too.  The rod has handled fish perfect since day one, including a few trout over 26" back in January and February.
I must say that out of the custom rods that I own to this date, yours is the only one that I have never had a problem with.  Thanks again for an amazing rod…
Cory Johnson
Field Tech
CMM Contractors
Equistar Pipeline Operations CCO
1501 McKinzie Rd.
Corpus Christi , TX 78410

I finally got around to testing my new BillyStix rod while in Port Mansfield the last 5 days. The rod performed beyond expectations even though it drew funny comments from my buddies on the eyes placement. It casts effortlessly and the sensitivity was incredible.
I caught specks, redfish, mangrove snapper, and tore the ladyfish up. The rod got bent good for the break-in so I give it a solid A+.
Thanks again Billy,
Steve

Just another day out on the water with good friends having a blast. Mike was the pull leader of the day..
I won one of your Spirals and I am amazed on how far it cast. I have to admit, I had my doubts on the reverse eye design, but it is awesome. Thank you! Albert

Here is a current " Team BillyStix " Member
She loves her rod and hat combo.
Google Billystix and check out his website and better yet give him a call . He is the most awesome guy I have ever talked to and you can see by my age I have talked to a BUNCH . His work is unbeleivable , take a minute and get to know him then order your own stix they are so sweet
Matt

I asked Mr. McDaniel to build a rod I couldn't find in a store or catalogue – a standup style rod with:
a solid glass blank,
cork grips,
a machined reel seat,
and foul proof guides.
This was to avoid :
a broken blank,
slippery grips,
a damaged reel seat,
and ring guides (or their ceramic insets) cracking or coming apart, or roller guides sticking.
I think this type of rod, or ***variations*** of it, might be of interest to:
commercial fisherman targetting large bottom (ground) fish or even school tuna,
long range fisherman,
shoreline shark fisherman,
or anyone needing a heavy rod that is low maintenance, powerful, and nearly indestructable.

I'd like to put one to the test on a big red at the jetties this summer, or possibly a cob along the beach…..haven't tried one yet but fished with Derf , dabo, and Hitman while they fished their's….I believe this fish came on a Stix rod….with too light of line I might add….hope those choppers didn't hurt the finish….

I just had a piece of PVC pipe show up on the mail!
I got to the office this morning and all the guys in the parts dept. are standing around a 7′ piece of pvc pipe with my name on it. Lo and behold my new SpiralStiX just showed up from Billy. And I want to say one thing about it. It has to be the finest rod that I have every laid eyes on. When I placed the order he gave me a descripion of what he had in mind and it is to the "T" on what I invisioned. The craftmanship is awesome to say the least. Let alone he sent me a new shirt and some Chicken Boy lures to go along with it.
I will post some pics later when I can get to a camera. But for now I have to go I think that I am comeing down with the flu for the remainder of the week.
Thanks again for truly custom rod and quick turn around.

From:

MEDICMAN1838

To:

billystix

Posted:

Tue Feb 03, 2009 1:32 pm

Subject:

Re: billystix custom rods

Billy here is a thank you email from the Battalion Commander of the Unit In Iraq we are supporting.
Dear Family & Friends,
On behalf of the entire command I want to thank you for the outpour of school supplies we recently received. What is more amazing is that more is on the way!! When I first requested assistance from family and friends back home I never imagined support of this magnitude. The school supplies could not have come at a better time as the battalion begins our special project. Your support of the battalion while deployed is simply amazing, and greatly appreciated. Thank you to each and everyone who has, or will, contribute to our project.
Best Regards,
Louis A. Zeisman
Lieutenant Colonel, US Army
Commander, 2nd Battalion, 505th Parachute Infantry Regiment
Billy Stix has posted this on a different link I wanted everyone to get a chance to bid and to help out a great cause.
lets do this for the kids, i will donate a 6ft6 spiral wader lowprofile custom billystix or a 6ft6 spin rod to be auctioned off startin now,
i would expect to see the rod go for at least $200 and i will put your name on it and something to the effect that it was for this event, who ever comes up with the best bid will win, you will not give me the money but you will need to work with someone to show that, that amt of money was spent and the stuff sent for the kids, then you contact me and i build you your rod, immm thinking red, white, blue with the insigna of the paratroopers i believe thats correct on the rod, it will be a very special rod that you can fish with pride and i can build with pride.
now lets get down to business i will not let it go for no small bid so pony up remember your kids when you pony up.
stix
Here we go…my wife fished the ladies day tournament on Saturday, out of 62 teams we finished 5th , she fought her fish the whole time using her custom billystix tarpon rod (approximately 50 minute fight) most others hand off rod to another but she did great using your rod. Sunday was the first day of the PTTS (professional tarpon tournament Series) held in Boca Grande, we had two leader releases, then i hooked the mother of all mothers, i fought my fish on my custom billystix tarpon rod for one hour & 35 minutes, i must say that your rod stayed easily in my hand even after the first hour, we put tremendous pressure on the fish the entire time. the tournament has a new rule that states you must land the fish within 30 minutes of the end of the tournament, i am surprised that i am not sending you a picture of a broken rod, we made the call with two minutes left in sudden death to lock down the drag and see what happens….i put so much pressure on your rod that something was going to give or i would be pulled out of the boat or our #40 fluorocarbon main line or the rod was going to break all in hopes the fish would co-operate (the biggest tarpon are females) so as most women, she did not like the added stress or pressure i was using and she decided to go down, when the line broke it sounded like a gunshot with 30 seconds to go! here is my point, she kicked my ass fair and square, but your rod did the job and the reason i wanted to tell you all this is because the fish was over 6ft long and had a girth of at least 48″ this fish was in the 220-230lb range. if you want to see the rod in action and how big this fish was go to www.bobt.photoreflect.com our team is on a solid black tower boat, our shirts are red sleeved with white center and i am the one wearing your billystix hat. once on the page go to mens PTTS 1a and go to 2, second or third pic on top is me and my fish, there are many other pics of rod in action so scroll through all pics even ladies day pics and see your rod being put to the test. thanks again, i am a proud owner of billystix.
Sincerely,
David Stark

Billy,
First let me say thanks for doing this contest. There is no doubt that billystix rods are the finest you can get. Over the years that I've known you it is obvious that you put your heart and soul into every rod that you build. Sadly, it is rare to see handcrafted products and even rarer to meet someone so passionate about their work. You truly have created a legend that all of us owners will not only cherish but pass on to our children as well. My hat's off to you!
I have caught many fish with the offshore rod that you built for me a few years ago but I don't get to fish offshore too much anymore. I plan to get a smaller boat next spring and start fishing the jetties and Cedar Key again. I ain't no Dabo or Nat Dad but here's my entry.
My darn wife is always outfishing me and I know that a jetty stix would at least give me a chance to outfish her once in a while. Here's a little story about just one of the many times she has outfished me.
My wife and I were at Cedar Key fishing for cobia Memorial Day weekend. She had laid her rod down in a corner of the boat. It took a lot of training to break that habit of hers! Sure enough the rod bent over; luckily I was standing nearby and grabbed it before it disappeared. I only yelled at her for a minute before I handed her the rod and told her to catch her fish. She started reeling it in and low and behold it was a nice cobia that came right to the boat. This was our first encounter with a cobia so I thought "this was easy" and proceeded to gaff him. He didn't really like the gaff and took off. Luckily the line didn't break and she now got to fight him for 30 minutes. She was very coordinated, managing to cuss me the whole 30 minutes that she was fighting the fish. She finally got him to the boat again and this time I was able to gaff him and get him into the boat (thank God, cuz I would've been left at sea and fishing with Davy Jones if ya know what I mean). It turned out to be a blessing that we didn't get him in the boat while he was green, but it would have been real ugly if she had lost it because of my guffed gaff job! It turned out to be 4 feet long, not bad for her first cobe. A little later that day I was able to catch a 3 foot one. The friends we were with had brought some backstrap so we ate real good that night! There is nothing finer than fresh grilled backstrap and cobia.
A month or so later, I was fishing in the Atlantic with a friend on a near shore reef. I was foolish enough to think that I was going to catch a cobe bigger than her 4 foot one. I was using my new offshore billystix rod when I hooked a huge cobe. Man, I was pumped. He was about 5 feet long and his head was the size of a basketball! Thanks to the power of the billystix, I got him to the boat fairly easily. We were really excited! I thought "wow, this one is bigger than my wife's". Then, my used to be friend attempted to gaff him. He jerked the gaff so hard it slipped in front of the fish and broke my line. We just watched him swim lazily away and didn't speak all the way in.
The moral of this story is that I just gave up trying to catch anything bigger than her and am now content just to clean the fish that she catches and make sure she doesn't lay the rod down when the line is in the water. A "stix jetties rod" would at least eliminate one of my many excuses for getting outfished by my wife every time we go fishing.

Here is where we finished during the series…week #1 and week # 2… TOP TEN       week #3 moved into 5TH PLACE       WEEK #4 move into 2ND PLACE and finally finished in 5th place overall after 5 weeks of fishing. That qualified us for the Tarpon Cup Championship, we finished in 8TH PLACE ( i lost a 180lb.+ fish at the boat that would have made us undisputed champions, damn it. oh well next year we will have a few more billystix, and really whip their asses, thanks for everything and we all love our rods.
Sincerely,
David Stark

Hey Billy, Here's a picture you may use if you like. Yep, that's Dixie Lee's 10.2 pound Redfish she caught on one of your rods when she was just a little Toot. She's 14 now. The fish was brought to hand using 10 pound test P-Line and a Texas Tackle Factory soft plastic jig. We ate well that night and the memory of that date and her trophy catch will never leave any of us that were there to share it with her! Tight lines my brother, Guy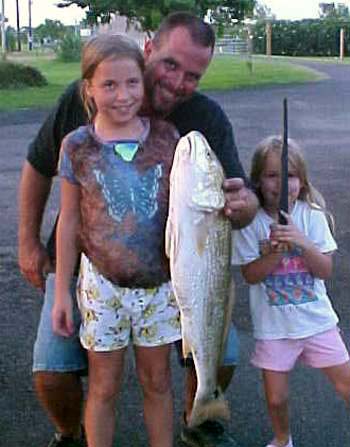 I just made the upgrade on the rod also. I've got the ABU Garcia Revo STX-HS and put it on a "BillyStix" Texas Wader Series , spiral wrapped . Have been using Alllstar , Castaway and so fourth, I'm getting 10 to 15 yd's further per cast with it !! Can't say enough for the craftsmanship that he put's into those Rod's . When it's time to git another then I know I'll be calling Billy again !

Just wanted to tell you Thank You again for the great work you did on my new "Texas Wader". The color's you put on it matched what I wanted perfectly. The rod worked just as you said it would."It will stand up straight in your hand while fighting a fish , instead of trying to roll to the left".The best part is the distance I get veruses any other rod I've owed in the same category. I love this "Spiral Wrapped" titanium eyed work of art !!!  Thank's Aagin !!!  Larry Leiker

By the way Billy, I love the 6'6″ Medium action spinning rod you built for me. I will pass judgement after using it a few times. I want to see how my wrist does after a day of casting plugs. Also, I want to see how it handles a good size fish. I'll try it out after my physical therapy on my shoulder.
I don't know how your wrist will do BUT you will have NO PROBLEM with big fish. Heres a pic of my wife with her StiX, she was showing off her new rod to Roland Martin after he had told us they had broke 2 rods at the jetties on big reds. The reds had kicked her rear earlier in the day BUT the rod brought them to the boat….WW
Just Ordered New Rod!!!!
For those of you that have not that have not had the pleasure of talking to Billy Mcdaniel at Billystix's…you dont know what you are missing. I just ordered my new rod and the experience was flawless…
He gave me some insight on things that I would have never thought of when discussing fishing rods and he made me feel like we have been friends fo 20 years…
Billy I cant thank you enough for the lengthy conversation that we had…I have never had this kind of personal commitment from anyone in this industry!!!
Thanks Again!!

Yngun and his dad were kind enough to let me throw a few casts under the light after our club meeting… Man I've been missing out what an amazing piece of work those rods are. I'll be buying two shortly!
We are the West End Anglers… a saltwater tribe!

My New Billystix "Flounderstix" Billy had a thread posted a couple of weeks ago where he offered to give away a couple of his new "Flounderstix" rods and I was lucky enough to be a winner.
Today I got home from work to find my new Flounderstix on my front porch and just had to brag and post a couple of photos of this beauty.
I absolutely can't WAIT to get out on the water and catch some fat flatties with this thing.
Thanks Billy for being such an amazing part of the 2cool community!

Billy just received my beautiful fantastic custom rod. Can't wait to use it on the water it will be teamed up with the ABU Revo Inshore bait caster. I had to tell a little white lie to my wife, now I am your new Texas Billystix custom rod tester. All and all awesome job.

THANK YOU BILLY!!!
I just want to say, that there is no way…I could be anymore impressed…than I am right now.
My Billystix is the most beautiful rod i've ever laid eyes on. I can't say enough about Billy's craftsmanship. Everything looks absolutely perfect, and every bit of detail that I wanted specifically as well as Billy's unique 'vision' of what a custom rod should be…is to the letter. I'm as giddy as a girl right now!! LMAO!!!
Thanks again Billy.
I may just let it sit in the rack awhile as i'm afraid to get it dirty, LOL.

NEW BILLYSTIX
my new billystix came in today.and all i can say is WOW!this rod is amazeingly beautiful and really radical looking.it's almost just like the one i ordered from last yr's contest.great guy to talk to and he pay's attention to how you want it made,wow,i'm just outta word's,this rod is like a feather compared to other rods i've looked at from acadamy.thanks stix for the great service.

I vouch for these rods. I have one and it is hands down the best rod I have ever used. plus they are not bad to look at
Seabrookkayaker

First I would like to thank Billy for having a contest and selecting me as a winner.(Luck of the draw) Second I would like to tell everyone a few things about my new rod. It's 7 feet long, graphite, custom thread wrapped with blue, green and gold, it has titanium nitride spiral eyes, it has a Texas flag a US flag and redfish emblems and is a true thing of beauty.
Honestly, I don't think I have ever seen anything so well built and beautiful. It's perfectly balanced. It has just the right back bone to accommodate my new Curado E7 with 8lb diam. Power Pro. I have not taken it fishing yet but I have rigged up a weight so I can throw it in the front yard. I'm sure my neighbors think I am crazy. I can not believe how smooth and easy this rod casts and how little effort it takes to move a weight.
When I catch my first big fish on this rig I will make sure to post it online but until then make sure you have a custom graphite rod from Billy Stix on your Christmas wish list. My hubby, Bighead, is extremely jealous and has already designed his own custom rod for Billy to make. I guess Santa needs to call Billy Stix!!
Everyone needs at least one of these. I don't know how I am ever going to be able to fish with one of my other rods after this. It's amazing! They are WORTH EVERY PENNY!
Kim AKA Dirty Girl Scout

Good Afternoon Billy,
I just wanted you to know that I just rec'vd the rod you so generously donated for my tournament to benefit The Bridge Over Troubled Waters.
The rod, what a work of art. The details on it are remarkable. The American Flag and the Redfish are a very very nice touch.
One of the guys that work for me is a big flounder fisherman. He says he will mug me after work just to get it.
This is without a doubt one of the most beautiful rods I have ever laid my eyes or hands on. Again, just the auction alone for this rod will generate quite a bit of monetary donation for The Bridge.
FACT – it only takes $25.00 a day to put one family up for one night there. This will take care of quite a few families.
I will be in the process of trying to finalize all the details of my tournament this Sunday and I will send the flyer out soon. I really hope I can depend on the 2coolers to come together for a great cause.
Anybody interested in wanting to assist me with the details please free to call me or e-mail me..
Again, on behalf of my Father, The Bridge, & myself Thank you so much for your donation and God Bless.

I love my Trout and Red Fish rods now all I need is a FlounderStix. Great rods Billy. Extremely light and action is incredible. Plus they are beautiful. I find myself wiping them down with Armor All after each. Trophy Rods.
Duke–Older Person

As some of you remember Billy held a contest a few months ago, the subject of the contest being, "why I need a BILLYSTIX custom rod. I entered the contest with the story of my daughter who was born 4 months premature. I didn't end up winning the contest, but Billy was kind enough to contact me and build me a rod anyway. I received the rod in the mail shortly after that and let me just say it's awesome! First off, the attention to detail in packing and shipping the rod blew me away. I think I spent 20 minutes carefully cutting all the packaging away from the rod. I just recently got to go fishing and used the rod for the first time. This was the first time I had used a spiral wrapped rod but I can guarantee that it won't be the last! Billy, thanks for the great service, wonderful gesture, and for building me a quality custom rod. BILLYSTIX is a great company and I definitely plan on ordering additional rods in the future. Thanks again Billy!
Nosaltincentx

We just got two new Billy Stix rods and couldn't be happier. The rods are beautiful and perform awesome. Also the BEST customer service I have ever received. You'll get Billly on the line himself, and he'll ask you what you want and deliver a superb product. We both stand behind Stix 100% and recommend his services!!
Nikki and Buddy Whayland

I won the BillyStix rod raffle at the TOBA barbeque a few years ago. the rod has TOBA on it, has a beautiful speckled trout image, its wrapped in turquoise and gold thread beyond description….7 foot inshore rod with spiral guides. The problem is it has been too beautiful to actually use. I finally just put a brand new Calcutta 250 gold reel on it and with the gold wraps, now it is really way too pretty. But I am going to man-up and make myself use it very soon.
Johnboat

Billystix,
Here is photo taken of me fighting an x-large Yellow Fin Tuna that hit a big top water plug while I fishing the deep water spar Auger. Everyone on board that night were very impressed with the performance of the rod you built for me; so impressed one of the guys grabbed a camera to take some photos of the battle. They really like the "personalized" features my rod has also, like call the rod the "Blue Chip Charters Tuna Special" and the Yellow Fin that are on the blank.
FYI; this tuna won the battle, but many other have not been so lucky!
Thanks again Billy!
Capt. Charles Foster Jr.
Blue Chip Charters and Guide Service
Sargent Texas
832-628-2253
Father's Day Billystix! I received that greatly anticipated plastic tube today from the USPS. I carefully unwrapped the most well packaged shipment that I think I have ever received. My father's rod has almost reached its final destination and I must admit that it is one of the most beautiful rods I have seen. Billy spent two long phone calls, one with me and one with my dad, to make sure that my dad got exactly what he wanted from his custom built rod. Billy is a lot of fun to talk with and I must say Billy's advice was really important in the final decision of what type of rod to get.
The rod is a 6'9″ spiral casting rod with excellent balance and feel. Wrap is done in brick red, white, and black. My dad is a huge Astros fan and these colors match perfectly. The wraps are so tight and perfect it really is a piece of art but I can guarantee that it will see a lot of use.
I paired the rod with a Shimano Calais 200 APV and man what a combo. This thing casts a mile and I know my dad will be extremely pleased. It makes working a topwater almost effortless and does not create the fatigue that I normally feel with my other rods. The rod is extremely light weight but also well balanced and feels just right with a reel on it. I went ahead and threw a super spook jr. for about 30 minutes this afternoon and picked up one nice bass, about 3 lbs, and the fight really does feel totally different and a lot more comfortable.
Billy, your spiral rod is amazing and you do incredibly high quality custom work. I will hopefully be able to talk my wife into ordering me a new rod for Christmas. The 6'9″ rod is definitely the perfect wading length and the spiral wrap creates a really sweet feel! Thanks so much Billy, you are 2cool!
I'd won a free Billystix and ordered it and was trying very patiently to wait until my new stix was ready and delivered to my house, and then Hooked Up posted about his new prototype NiteStix! I was happy for him, even made a suggestion on a reel.
I'd come home everyday looking to see if the postman had left that "tube", you know that long piect of 4″ pvc tube? And everyday I'd just be disappointed; that is until today.
There it was, leaning againt the front door frame..7′ or so of 4″ pvc! YES! My new NiteStix! Of course now the fight began, to get into that said tube and extract that beautiful work of art. All black 6'6″ of spinning rod! Billy, you out did yourself on this one!
Thank you so very much Billy, this is what the Dr. ordered!
If anyone else is looking for a rod, you need to call Billy. He will do you right, he's a great guy, fun and easy to talk to, and his rods are ..well .. SWEET!
Thank you again Billy!
Jud

I love mine. The spiral wrapping has its advantages like sensitivity, rod doesn't spin, supposed to be easier to cast, etc. Not to mention its beautifully done. Visit Billy's website for a better explination, he knows it better than I do.
have used mainly Billystix (for wade fishing) mounted with a chronarch 100 I have really enjoyed fishing with the Spiralstix.

When I am wade fishing I use the SPIRALSTIX. It is extremely light. I would rate it on..10
Billy is top notch when talking about rods. He will answer all your questions honestly and make you feel like your a part of the whole rod building process while building your rod.
Hope this helps….
John Anderson

I've got a Billystix and a curado on it. SWEET!!! is all I've got to say about it!

Billy will listen to you and build you the rod you want and need, he is good people and a real artist. You will love the rod. It casts like a dream and like has been said "puts the weight of the fish in your palm".
Get one you'll not regret it!

Love mine, matched it up with a Curado 100DSV, light rig, casts great, the spiral wrap is great when fighting a fish, not to mention a beautiful custom wrapped rod. Try one, youll love it. __________________
><))))'> Fish Till You Drop <'((((><
Just Dont Drop The Beer

Stix – matched my 6′ 9″ Billy Stix Spiral Custom with a Curado… Love the feel working tops, and touts. About three weeks ago, I fished the Chandeleur Marsh Area off LA – busting some nice trout, reds and flounder. I love my rod, it casts long and my hooksets are quick. __________________
Gromo

We have 3 stix in our household.. One billy made for me for slamming big redfish , one trout rod i won at a tournament and a custon yak rod that kaylin has.. All are excellent rods and continue to impress us..

Mr. McDaniel,
I wanted to let you know that my husband, Bryan, ordered a pink fishing rod from you for my birthday several weeks ago. The rod ended up arriving just in time for my husband to give it to me for my birthday. The only problem was my husband was so excited about seeing the rod you made for me that he blew the surprise by unwrapping the packaging and getting caught in the process prior to giving it to me. Needless to say, we were BOTH more than satisfied. We had looked and looked for the perfect pink rod and I LOVE the one you made. I like it so much that I would like for you to make one for my husband also. Not a pink one, of course, but blue and black instead. Please let me know how you would like for me to contact you regarding arrangements of my husband's fishing rod. Thanks again and I am sure we will be ordering more from you in the future. I can't wait to catch the "BIG ONE".
Melinda Sugg

Look at buying a spiralrod from billystix! Now that's funny right there!
Don't overlook these "spiralrods" that billystix makes, they are a work of art for sure and just as funtional as any other rod out there. I think I have gained about 5-7 yards of casting distance with mine. You tell him what you you are looking for, then tell him what colors you like and BINGO! Billystix will even enlighten you on different blanks and their different characteristics if you ask nicely!
I have had mine since the end of June and love it. I just wish that I had more time to use it!

Billystix Service Billy built me a rod for my 80 year old Dad for Christmas last year. My Dad loves the rod.
Last Weekend while landing a small trout the rod end broke.
A five minute conversation with Billy solved the problem. He is building a new rod and I will pay freight. This kind of service is almost gone in this country. As a small business owner, I appreciate this kind of fast responsive service to an issue. I was a bit concerned last year on using an out of state company to build my Dad's once in a lifetime rod, but Billy built a great rod, good delivery and he stands behind his product.
I highly recommend anyone wanting a new rod to call Billy and do business with him.
I was so impressed with his resolving this problem that I am going to be ordering my new rod from him soon.
Great product,
Great Service,
Great guy to work with.

When I decided to have a set of custom light tackle rods built for my personal use, I went into the process with very high expectations. Billy offered some great suggestions and then proceeded to build three rods that surpassed even my demanding criteria. Not only are they balanced, extremely light, sensitive and meticulously crafted, they are works of art as well. I was so pleased I had him build another matching one in medium action.
If you want a truly unique rod that's tailored for your style of fishing, give Billy McDaniel a call. I'm sure you'll be as happy with the results as I am.
Capt. Dave Lear
Award-winning outdoor journalist and member of the IGFA Royal Billfish Slam Club
Tallahassee, Florida

Billy…my friend Amanda can't decide what's better–her new mink coat or her new BillyStiX SpiralStiX rod!
Capt. Tommy Thompson, Steinhatchee, FL

I got my Billystix today! I woke up this morning knowing today I would be getting my very own custom made Billystix.
This rod is awesome, the way the eyes spiral makes it perfect. It's very sensative.
Billy is a very nice guy and explains everything to you. He will put some hard work into a rod. I would recommend him to anyone looking for a great rod in a heart beat.
I am gonna love my new Billystix rod.

Hey Billy, I won one of your rods in the tournament…for redfish, got a redfish on the rod…first time out with it I told my friends it had a little tto much backbone for my taste…hooked into a nice red and it whipped him in half the time of my lighter action rods, Last week I caught a couple of nice flounder with it….I was dead wrong, Your rods are super light, short handle for working in the yak…just a superior rod….thanks, I may need another soon.
Bayou Self:HE WON THIS IN ALABAMA

Just got my 6'9″ redfish and speck rod in today man she is a BEAUTY! Lightweight great action and almost too pretty to fish with! Billy's customer service is second to none one call to him and you will understand what I am talking about this is one standup guy and he will treat you right. As soon as I get my revo in I will post pictures of it………

TOTALY SHOCKED
This morning the mail came to the house and along with bills and what not was this big ol tube and could'nt figure out what it could be.so i got my buck knife out and cut the tape that sealed the top.i still could'nt figure what it could be wraped up in paper.so carefully i unwraped the paper and to my surprise was a beautiful just beautiful fishing rod made by billy stix!im so proud of it i don't know if i should fish with it or not.WOW it puts all my other rods to shame.
that rod is in a class of its own.now i don't have to ask if i use one of buddies cause i have one of my very.thankyou so much mr.billy stix,if you were closer i would give you big ol hug! again thanks so much for the rod im so proud it you just would not beleave.thankyou, thankyou so very much–jay __________________
majek guy

And the spiral is awsome! Hooked most of the fish with it when I was out at the platforms with Stinky, and it really works great. Handles great. Feels balanced perfectly when fighting the fish. I now have three BillyStix, Thanks to Mr. Bill and Cayman) and still thinking about a couple more, one for Finger Mullet and an offshore model…Yea, they may cost a bit more, and I'm working on the budgeting, but they are damn well worth it. If you ever hook into a good fish on one, you're HOOKED!
Thanks fro a great piece of craftsmanship Billy.
_________________
FISH SAFE!
Danny Adkins

You will definitely enjoy the rod Baydog, Billy builds a great Stix no doubt.
I really like mine (all three) and can honestly say, once you hook into a fish with one, you will feel the difference between it and a storebought rod. The Stixx almost handles the work for you, making the reeling easier.
Congrats. on the good news man!
Thanks for giving these folks a chance at one of your masterpieces Billy.
_________________
FISH SAFE!
Danny Adkins



Dear Sir,
I am writing you because I am homeless. The reason Im homeless is because I spent all my money trying to get my family back from evil pirates. They are very serious about their demands. They will only release my loving family with delivery of a Billystix SpiralStix "Lite" rod. Thank heavens above that I found this contest while surfing the net at our local library. I have inclosed a photo to show you that Im not making this up. Also I smell very bad.
Thank you

10 responses